Get ready to hit the beach!
Edit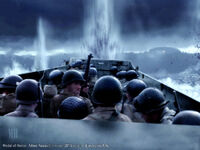 Welcome to the Medal of Honor wiki, soldier! There's a lot to do around here, so I hope you'll stay with us and make many more improvements.
Recent changes

is a great first stop. There, you can see what the other editors have been working on.
Questions? You can ask at the

Help desk

or on the

"discussion" page

associated with each article, or message me at

my talk page

. Or, ask an Administrator or Bureaucrat. Their names are highlighted in

green (administrator)

and

blue (Bureaucrat)

.
Need help? The

Community Portal

has an outline of the site, and pages to help you learn how to edit. Also make sure to read the

Manual of Style

so you know how to spot bad edits.
Please

sign in

every time you edit, so that we can recognize you avoid friendly-fire situations!
Good to have you here, and I'll see you on the beach!
-- YuriKaslov (Talk) 20:31, May 30, 2011
Licensing
Edit
Just because this wiki isn't as active as the BF wiki doesn't mean you can upload unlicensed images. Remember to license them at all times.

HeatedPete - 20:57, May 30, 2011 (UTC)
The URL will be fine, and also remember to add the EA template.

HeatedPete - 16:08, May 31, 2011 (UTC)
Yes, that'd be wonderful. Йура

17:50, September 3, 2011 (UTC)