Hello everyone this is Ops, On August 14th the youtube page medalofhonor uploaded a video giving us a better view of Warfighters multiplayer. The trailer starts by showing a new map called Saravejo Stadium from a UAVs POV. The camera then zooms down onto a fireteam consisting of a SAS Point Man and a KSK Assaulter, the trailer then shows us the MP7,G18,SMAW, and M249 in action. After a Suchka and the SC5 are shown a SFOD-D Demolitionist attacks a player with a tomahawk similar to a way we would see in BF3. Another map called Phillipenes Basilan Aftermath the same way Saravejo Stadium was shown the camera once again zooms down into the action showing us a player using a battle rifle, M9, the "Blooper"M79 Grenade Launcher, and a G1 series Pistol.
After a player watches a squadron of jets attack it shows another melee similar to BF3 and a remote controlled explosives weapon after the explosion it shows us the Spec Ops class's vision ability. The trailer finally moves to the Bonsia Novi Grad Warzone map and shows an attack helicopter firing at a PKP gunner and his team before the trailer is over it shows a short montage of CQ engagements and telling us there will be 6 classes, 8 real world maps, 12 internnatinol warfighters, 35 multiplayer map/mode combinations, and thousands of fireteam combinations.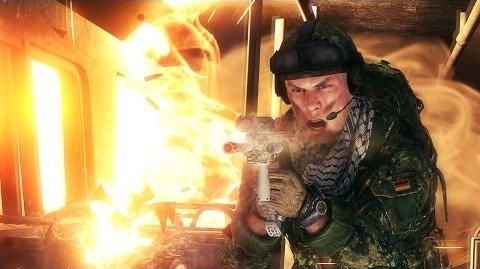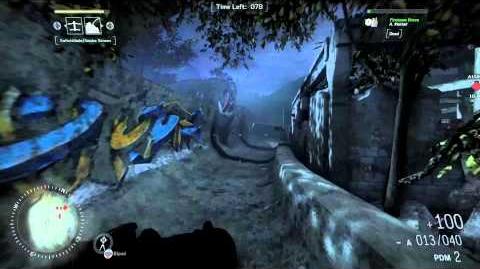 I also found a video of actual gameplay, enjoy.
Other News
Edit
On August 23rd another behind the scenes of the "Castle of Glass" music video was shown and also shows some possible cutscenes from the singleplayer. Also the medalofhonor youtube page put up a 2 minute and 6 second long video called Dfl;kjadskl;fhadsfdsafdsaf hours ago, the video was quickly tooken down.