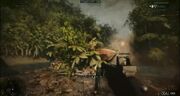 The Trijicon RMR is a red dot sight that appears in Medal of Honor: Warfighter.
The optic is seen on the 870 in the campaign, it is added on the Trijicon TA11H-308 on Precher's and Mother's AKS-74u in Finding Faraz, it is added along on Preacher and Vooddoo's DD MK18 along Mako in Shut it Down.
Multiplayer
Edit
The optic is seen on the Point Man's secondary weapon, the 870. It cannot be removed from the 870 as secondary weapons are not customizable.
Ad blocker interference detected!
Wikia is a free-to-use site that makes money from advertising. We have a modified experience for viewers using ad blockers

Wikia is not accessible if you've made further modifications. Remove the custom ad blocker rule(s) and the page will load as expected.