Scheiss was a minor character in Medal of Honor: Vanguard. He was a German officer who commanded a section of trenches during Operation: Varsity. He was killed by Sgt. Frank Keegan. He is mentioned during the tank battle in the trench. One of the Wehrmacht soldiers says: Scheiss! Wir haben das Stellung durchbrochen! (Scheiss! We have our position breached).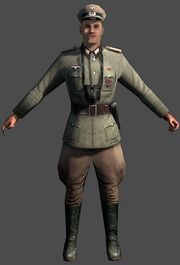 Ad blocker interference detected!
Wikia is a free-to-use site that makes money from advertising. We have a modified experience for viewers using ad blockers

Wikia is not accessible if you've made further modifications. Remove the custom ad blocker rule(s) and the page will load as expected.