Rescue the G3 Officer is the first mission in Medal of Honor. The mission is divided into three levels: Find the Downed Plane, Search the Town and Sewer Chase.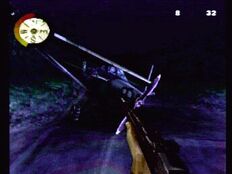 Background
Edit
An allied G3 officer has been shot down in the Normandy hedgerows. The information that he carries involves the allies battle plan and information on the French Underground . Patterson is to find and rescue the G3 officer before he is captured by the Germans. The first thing Patterson finds is the downed plane; but there is no sign of the G3 officer. Entering the town of Dubuisson, Patterson finds that there is a heavy presence of Gestapo officers. After killing all the Gestapo officers in the town, Patterson finds the French Underground hideout. There he finds the G3 officer dead. With the streets above full of German squads, Patterson uses the sewer for his escape. He grabs the officers briefcase and fights his way through the sewer. Along the way he finds a cache of weapons that the French have hidden. After fighting his way past Gestapo Agents and dogs he finds his way out of the sewer.
Recover Logbook
Find Plane
Enter Town
Destroy Radio Transmitter
Neutralize Gestapo Threat
Locate Maquis Hideout
Acquire G3 Attache Case
Locate Maquis Weapons Cache
Exit Sewer
Enemies encountered in this level are the most basic of German soldiers. For the most part their reaction time is slow and they are mostly armed with rifles. Few soldiers are armed with submachine guns.
Gestapo Agent
Gestapo Officer
Attack Dogs
Music List
Edit
https://www.youtube.com/watch?v=vpbF7vm4cHk&list=PL97006F896F6A5D2D&index=1
https://www.youtube.com/watch?v=U_0mG8m3tCM&index=2&list=PL97006F896F6A5D2D
https://www.youtube.com/watch?v=SLujr8ZKb18&list=PL97006F896F6A5D2D&index=3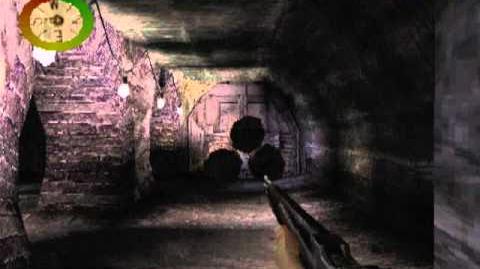 Ad blocker interference detected!
Wikia is a free-to-use site that makes money from advertising. We have a modified experience for viewers using ad blockers

Wikia is not accessible if you've made further modifications. Remove the custom ad blocker rule(s) and the page will load as expected.