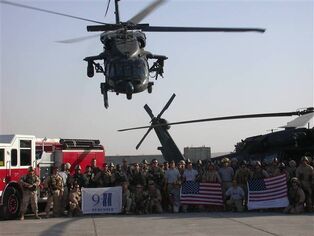 The MH-60L DAP Black Hawk is the Tier 3 Offensive Support Action for the Heavy Gunner class. Similar to the Point Man's AH-6 Little Bird Support Action, the MH-60L Direct Action Penetrator (DAP) is a Helicopter gunship capable of loitering on target longer than Little Birds. It provides a combination of minigun and Hydra rocket fire support.
Ad blocker interference detected!
Wikia is a free-to-use site that makes money from advertising. We have a modified experience for viewers using ad blockers

Wikia is not accessible if you've made further modifications. Remove the custom ad blocker rule(s) and the page will load as expected.