Hold The Line
Game
Medal of Honor: Vanguard
Teams
U.S. Airborne and Germans
Place
Siegfried Line, Germany
Terrain
Forest
Modes
All multiplayer modes.
Type of Combat
Medium to Long Range
The Campaign level Map
The Crucible
Hold The Line is a small multiplayer map in Medal of Honor: Vanguard. It is based on the mission "The Crucible".
A misty morning starts along the Siegfried Line, recently reactivated since after the end of World War 1. From the bottom to the top of the hill, a slaughter is about to take place. You only have one goal--hold the line!
This is the final (in the map order) multiplayer map. It is one of the smallest ones, probably a little bit smaller than Countryside Walk. It has four weapon pickups located up the hill and in the two bunkers. There are two MG nests on the map; one at the bottom of the hill and one at the top in the trenches.
Pickup Locations
Edit
The Ammo Station is located at the bottom of the hill in front of the MG-42.
There is a BAR pickup at the bottom of the hill by the MG-42 as well.
There is a Thompson located at the top of the hill in front of the MG-42.
There is an MP-40 pickup located in the left bunker.
There is an StG-44 pickup located in the right bunker.
There is a half-track at the bottom of the hill.
There are two sets of radios and beds inside the bunkers.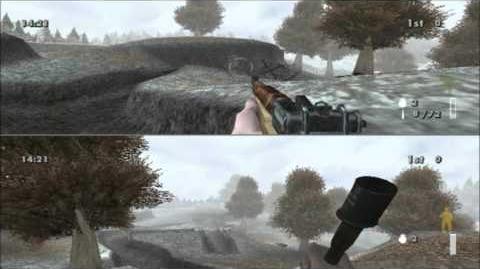 Ad blocker interference detected!
Wikia is a free-to-use site that makes money from advertising. We have a modified experience for viewers using ad blockers

Wikia is not accessible if you've made further modifications. Remove the custom ad blocker rule(s) and the page will load as expected.