Hangar Havoc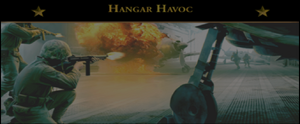 Game
Medal of Honor: Rising Sun
Teams
Axis and Allies
Place
South China Sea, Pacific Ocean
Terrain
Ocean
Modes
All multiplayer modes.
Type of Combat
Close Quarters to Medium Range
The Campaign level Map
Supercarrier Sabotage
Hangar Havoc is a small multiplayer map in Medal of Honor: Rising Sun. It is based on the campaign mission Supercarrier Sabotage.
Located  in one of the hangar bays on the large carrier featured in the campaign, probably on July 17th, 1944 (the same date as the campaign mission), this is the final map in the multiplayer list. It is a large hangar only separated by a large door (that you can walk across). You can either fight in the hangar, under or over it, or on the sides of the ships on the catwalks.
This map is perfect for the U.S. Balanced weapon set.
The control room in this map has no equipment inside of it.
The sun appears to be setting on this map (it is setting in the South West). It is also the same skybox used in the Supercarrier Sabotage.
The ambience is very industrial on this map.
This is one of the smallest maps in the game.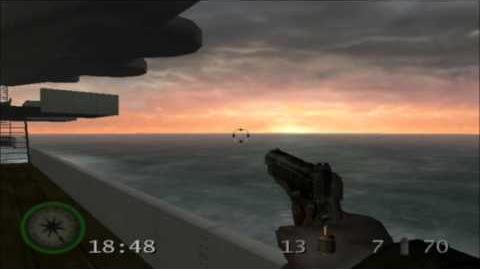 Ad blocker interference detected!
Wikia is a free-to-use site that makes money from advertising. We have a modified experience for viewers using ad blockers

Wikia is not accessible if you've made further modifications. Remove the custom ad blocker rule(s) and the page will load as expected.