Sergeant Hall was a member of the 101st Airborne Division. He fought in the Ardennes.
Biography
Edit
Rocherath
Edit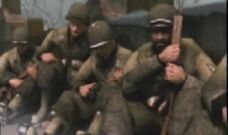 In Rocherath, they fought all the way towards their objective of destroying the bridge. Hall was part of a squad placed in the outpost of Rocherath. Hall ordered
Crockett
went to see but this one was killed. At the beginning of the attack many members of his squad died. He managed to retreat with
William Holt
,
Olsen
and
Jennings
in a building where the
captain
and another soldiers. Hall followed Holt in the city. After a German attack that failed he fight in the city and reached the bridge. He succeeded his goal.
Later, he arrived with Maser to replace Lt. Ramirez and Lt. Rogers after Holt rescued Manon Batiste.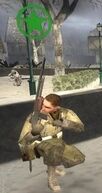 He had defended fiercely the farm and survived. Him, Holt, Olsen, Jennings, Swanson, Jackson, Maser and the 101st Airborne Division fought in the Ardennes with various units of the 28th Infantry Division and then fought Von Schrader's bunker. The lower the fighting was fierce and several soldiers were killed. They still managed to succeed in their mission and survived.
It seems that Holt is his officer but also a friend.
Ad blocker interference detected!
Wikia is a free-to-use site that makes money from advertising. We have a modified experience for viewers using ad blockers

Wikia is not accessible if you've made further modifications. Remove the custom ad blocker rule(s) and the page will load as expected.