Countryside Walk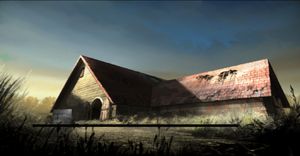 Game
Medal of Honor: Vanguard
Teams
U.S. Airborne and Germans
Place
Holland
Terrain
Rural
Modes
All multiplayer modes.
Type of Combat
Close Quarters to Medium Range
The Campaign level Map
A Shallow Grave (speculation)
Countryside Walk is a small multiplayer map in Medal of Honor: Vanguard. It appears to be based on the mission A Shallow Grave.
Somewhere in the Holland countryside an abandoned farm sits deep in the hills--effectively in the middle of nowhere. The farm equipment sits in place, surrounded by a large, three-story barn. The barn's roof and walls are slowly collapsing from the war going on around it. However, its place in tactical defense of the occupied country is well known seen by the machine gun position set up on a bale of hay. With the size of the property, this isn't going to be a walk in the country.
This map is set up with Deathmatch in mind. Its size and verticality makes it a CQB nightmare. Don't get stuck in corners and beware of players that would camp on the roof! Just watch your step if you decide to go up there.
Pickup Locations
Edit
A Thompson is located on the very top floor of the barn.
A BAR is located in the very front of the barn in front of the farm's gate.
The Ammo Station is located in the barn in the far right room.
Windchimes can be heard throughout the map.
Among the sounds of the wind and windchimes, you can also hear planes fly over (but not see), the sounds of distant artillery fire and explosions, and birds.
This is the second smallest multiplayer map in Vanguard.
This map appears to be in the middle of nowhere. The only other buildings visible from the barn's roof are a windmill and a farmhouse in the distance. The barn may belong to the resident of the farmhouse.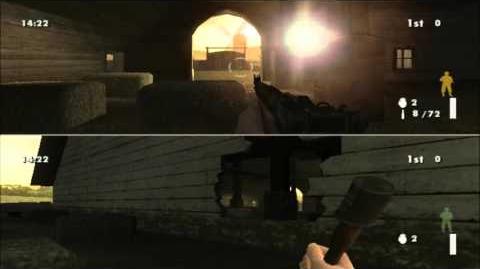 Ad blocker interference detected!
Wikia is a free-to-use site that makes money from advertising. We have a modified experience for viewers using ad blockers

Wikia is not accessible if you've made further modifications. Remove the custom ad blocker rule(s) and the page will load as expected.