Chindits
Leader(s)
Orde Wingate,Walther David Alexander Lentaigne
Appears in
Medal of Honor: Rising Sun
Country
India,Britain
Type
Special Forces,Military Organisation
Active
1942-1945
The Chindits were an Indian military organization that aided the British army in the war against the Japanese occupation throughout South East Asia. They appear in two missions in Medal of Honor: Rising Sun,as escorts for Joseph Griffin. They are armed with light firearms, often wielding MkII Sten guns and Small Magazine Lee Enfields. They usually give covering fire for player to advance.They can survive from enemy fire,but very hard to save them when facing the machine gun nest.If they survive,they not following player to his objective and usually stay on the area.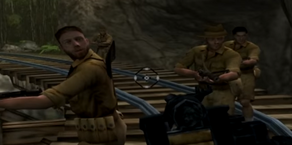 Appearances
Edit
Some Chindits use the face models of Sergei Borov and Martin Clemens.
They appear to have entrenching tools mounted on their backs.
Ad blocker interference detected!
Wikia is a free-to-use site that makes money from advertising. We have a modified experience for viewers using ad blockers

Wikia is not accessible if you've made further modifications. Remove the custom ad blocker rule(s) and the page will load as expected.