Calumpit Chaos
Game
Medal of Honor: Rising Sun
Teams
Axis and Allies
Place
Calumpit, Philippines
Terrain
Urban
Modes
All multiplayer modes.
Type of Combat
Medium to Long Range
The Campaign level Map
Fall of the Philippines

Calumpit Chaos is a large multiplayer map in Medal of Honor: Rising Sun. It is based on the church area of Fall of the Philippines.
Overview
Edit
The map is essentially a modified version of the church area of the campaign level Fall of the Philippines. The map has two machine gun nests on opposite sides of the map: one on the top of the hotel and the other by the collapsed building.
It is a balanced map for all weapon sets and is perfect for snipers on the rooftops and bell tower.
Without the use of historical research on the Battle of the Philippines, the name of the level is the only reference to the actual name of the city that appears in Fall of the Philippines. Rather than stating that the mission takes place in the town of Calumpit, it simply states that the location is the Philippines.
Prior to the deactivation of Rising Sun's online multiplayer, Calumpit Chaos was one of the most popular maps in the game.
The ambience consists of distant gunfire, wind, and crickets.
This is one of two multiplayer maps to take place in the town of Calumpit in the Philippines. The other being Shima Field.
The billboard signs are written in English and Tagalog.
You can't get to the very top of the bell tower unlike in the campaign.
The fountain appears to be too shallow for any function.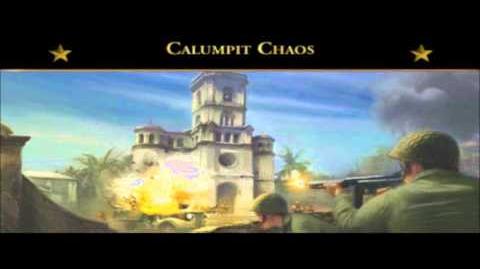 Ad blocker interference detected!
Wikia is a free-to-use site that makes money from advertising. We have a modified experience for viewers using ad blockers

Wikia is not accessible if you've made further modifications. Remove the custom ad blocker rule(s) and the page will load as expected.